Belliveau Shipyard Limited opened for business in April of 1987. The company has grown every year, starting from a finishing shop to the full service yard we operate today. Hard work, customer satisfaction, and improving quality have always been our objectives. We feel that our repeat customers are proof that we are meeting these objectives.The remainder of our business has been attributed to these repeat customers for passing along our reputation to their friends. Our hats are off to all our valued customers for their patronage and continued support

We have 3 climatically controlled molding shops totaling 13,150 sq.ft.
Hulls are hand-laid
Complete Transport Canada (C.S.I.) approved plans
3375 sq.ft. finishing shop
Two 100 ton marine railways to handle vessels up to 65 ft. in length
1200 sq.ft. stockroom carrying commercial marine hardware and fixtures
Distributor for Duramax Marine cutless sleeves
5500 sq.ft welding / machine shop.
Repairs for all metal components stainless steel, aluminum, and steel
On site fabrications of fuel and water tanks, masts and booms, A-frames, rudders, etc.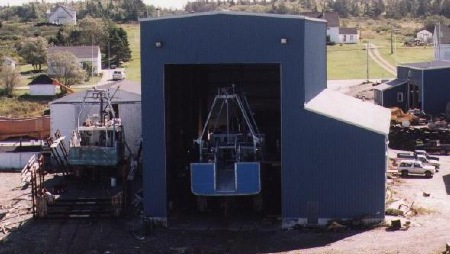 A 52 ft. high door and a 5 ton overhead crane allow us to install masts or a-frames and deck machinery, while your vessel is still inside, without any concern of the weather.

Our experienced and highly trained staff will assemble your new boat, from high quality materials, to suit your specifications.